Are You
Challenged Again And Again

With
Finances, Health, Career, Relationships etc??
This Could Be Because of Your Karma. And its
NOT YOUR Fault!
This Online Masterclass with Dipal Shah Reveals:
HOW TO BECOME A MASTER OF YOUR OWN KARMA
Karma is not just the actions you took in this life but in past lifetimes that could be having a consequence in this life. And you almost feel helpless because until the karmic energies resolve, that problem is not going to away. And in this masterclass, Spiritual teacher and Medical intuitive, Dipal Shah teaches you how to ...
Become Master of Your Own Karma
Quickly Reprogram Your Karmic Grid with 15D Frequencies to Achieve Greater Health, Finances and Relationships
In this Masterclass You Will:
Learn TIPS that will help you BREAK FREE from the cycle of Karma!!
Discover the Secret to Dissolving and Clearing old Karma forever so that you can find FREEDOM and PEACE!!
Find out what is keeping you in "suffering mode"!
Learn how Karma = RESULTS of our bad actions in the past is False!!! Karma can be your friend.
Find out how what old Karmic Patterns that you keep repeating and what your lessons are in this lifetime
Find out if the Bad Actions of your current life ARE IRREPARABLE and if you are destined to suffer from its consequences!
And much, Much More
About Eram Saeed & Dipal Shah

---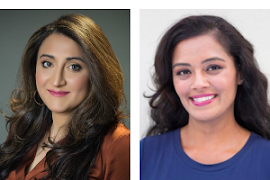 Eram Saeed is the founder of From Heartache to Joy, a global telesummit series, featuring the top global leaders, focused on giving you cutting edge techniques in the human potential movement so you have a healthy and more fulfilled life! She's also the founder of the Journey of Joy Foundation, a Global initiative, launched to eradicate crimes against women. She can definitely help you reduce suffering and experience joy, freedom, and peace!
Dipal Shah is a Medical Intuitive whose experience goes beyond Energy Medicine. She has helped and continues to help 1000s of people around the world eliminate emotional and physical pain.
She is a Spiritual Teacher, Global Speaker, Podcaster and an Author. She is the founder of the Ground-Breaking, Cutting Edge Quantum Body Awakening Modality which helps her clients shift their health and transform their lives faster and with ease.
Dipal has a unique gift of speaking to the body and transmitting source energy for healing through the hara dimension. Dipal's is passionate about offering various programs that help people heal and release the physical, mental, spiritual and emotional blocks holding them back from discovering and achieving greater health.
Her programs and interviews have impacted people deeply and her work is in high demand. She teaches others how to Live Life STRESS FREE which translates to DISEASE FREE.
-

Just have an internet connection, and watch the masterclass LIVE on your computer

-
DISCLAIMER: The information on this site is not intended or implied to be a substitute for professional medical advice, diagnosis or treatment. All content, including text, graphics, images and information, contained on or available through this website is for general information purposes only. Please see a medical professional if you need help with depression, illness, or have any concerns whatsoever.

WE DO NOT OFFER MEDICAL ADVICE, COURSE OF TREATMENT, DIAGNOSIS OR ANY OTHER OPINION on your conditions or treatment options.  SERVICES OR PRODUCTS THAT YOU OBTAIN THROUGH THIS WEBSITE are for information purposes only and not offered as medical or psychological advice, guidance or treatment.

CONSUMER NOTICE: You should assume that From Heartache To Joy has an affiliate relationship and/or another material connection to the providers of goods and services mentioned on this page and may be compensated when you purchase from a provider. You should always perform due diligence before buying goods or services from anyone via the Internet or offline.
Copyright @ 2020 - From Heartache to Joy